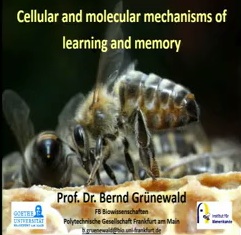 Cellular and Molecular Mechanisms of Learning and Memory
Untertitel Circuit of gill withdrawal reflex, The case of H.M., Hipocampal LTP, Hebb's Principle etc.
Sprecher Prof. Dr. Bernd Grünewald
Ort Bio - 1.203 Hörsaal 2
Datum 07.02.2018 @ 08:17
Beschreibung Lecture: Cellular and Molecular Mechanisms of Learning and Memory Wednesday: 8-10 am. FB Biowissenschaften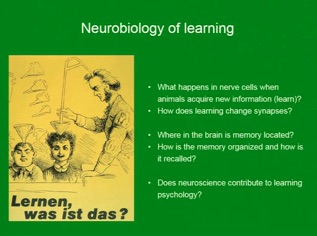 Neurology of Learning and Memory
Untertitel Defining learning, Neurobiology of learning, Different forms of memory, Habituation, Dishabituation, Sensitization etc.
Sprecher Prof. Dr. Bernd Grünewald
Ort Bio - 1.203 Hörsaal 2
Datum 05.02.2018 @ 16:14
Beschreibung Lecture: Neurology of Learning and Memory Monday: 16-18 pm FB Biowissenschaften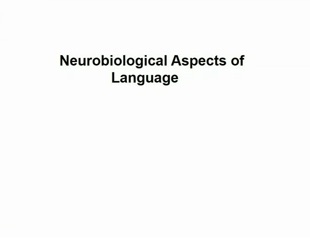 Neurobiological Aspects of Language
Untertitel Ants: chemical language with pheromones, Bees: dance "language", Human language, Recursive elements(human & birdsong), Written human language, Human brain size, Hemispheric dominance, Associative learning etc.
Sprecher Prof. Dr. Manfred Kössl
Ort Bio - 1.203 Hörsaal 2
Datum 17.01.2018 @ 08:15
Beschreibung Hinweis: Die Vorlesung besteht aus 2 Teilen: 1. Teil: Prof. Dr. Manfred Kössl 2. Teil: Gastdozent: Dr. Christian Kell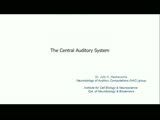 The Central Auditory System
Untertitel Oxford's dictionary, Temporal bone, Frequency extraction in the cochlea, Receptive field, Intensity coding (via fiber recruitment), Auditory Nerve Spikes, The CAS, Encoding inter-aural time differences (ITDs) in the medial superior olive [MSO), Before loo
Sprecher Dr. Julio C. Hechavina
Ort Bio - 1.203 Hörsaal 2
Datum 18.12.2017 @ 16:15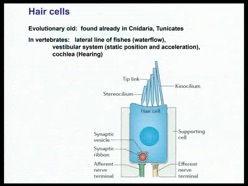 Lecture: Hair Cells: Mechanisms of Adaptation; Hearing: Parameters of Sound etc.
Untertitel Auditory System, Structure of stereovilli = stereocilia, Adaptation in hair cells, Human hearing range, Corti organ etc.
Sprecher Prof. Dr. Manfred Kössl
Ort Bio - 1.203 Hörsaal 2
Datum 12.12.2017 @ 09:10
Beschreibung Vorlesung/Lecture: Ausgewählte Kapitel der Neurowissenschaften I Date: 12.12.2017 PLEASE NOTE: Volume may be needed to be turned up. Apologies in advance for this technical issue.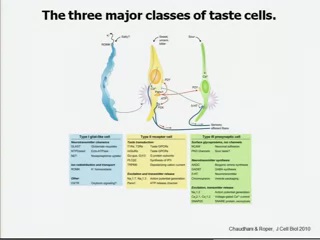 Chemoreception Taste, Odor Perception etc.
Untertitel Taste organs on the mammalian tongue, Three classes of taste cells, Olfaction, Mammalian primary olfactory transduction, Mammalian pheromone perception etc.
Sprecher Prof. Dr. Bernd Grünewald
Ort Bio - 1.203 Hörsaal 2
Datum 05.12.2017 @ 09:27
Beschreibung Leider fehlen die ersten Minuten der Vorlesung, sorry!